Tell us about a deep soul connection that you've experienced.
My first deep soul connection was with a man I met here in Florida. I moved from Chicago after being coaxed by my retired ex to mend our broken 25-year marriage. It didn't take long for me to realize I was never going to experience that special connection I always desired to have with a man that was consistently unfaithful.
Spiritually broken, I knew I had to concentrate on healing myself, find a job and meet my own circle of friends. I started working for a property management company when I met him, the deep soul connection.
There was something intriguing about this man. Although I had lost all faith in men, I found myself wanting to get to know him. After a couple of weeks I felt so comfortable with him because he listened and never judged me for speaking my mind. There were times we didn't agree on the same topic, but it was ok. We shared our heartbreaking life experiences without shame. He became my first male friend and I loved it! I found my thought process changing and started gaining my confidence back. I felt my life had purpose again.
When I grew emotionally stronger, I finally made the decision to end the relationship that took a total of 29 years to drain my soul of every bit of "ME" and moved out of the house. For the first time in my life I felt independent. That sense of freedom was great.
After a while I realized why this man crossed my path in life. I needed to regain what my marriage destroyed, which was my perception of men. It was to learn how to have a meaningful, respectful friendship with men, to have faith in them and not be afraid.
What was one of the most soul-opening moments of your life?
My most soul-opening moment was my first date after my final separation from a 29-year-long relationship. I had been living the life of an independent woman for over a year, yet was not looking for love. Although I was beginning to feel comfortable in my skin, just the thought of going on a date with a man frightened me. I looked for any excuse to not go out on one. You couldn't blame me. I was out of the dating scene for 29 years.
Then it happened. I met a man on the internet in January of 2012. We started sending emails back and forth daily. He invited to take me out to dinner on Valentine's Day. Although we had been communicating by email, I was reluctant because I did not know anything about him. I declined the invitation and explained why. He was so respectful in accepting my decision but stated the offer would remain open even if I decided at the last minute to go.
I was incredibly nervous and yet excited. I started feeling so comfortable after a few days and accepted his dinner invitation. The day before Valentine's Day, he had the largest, most beautiful bouquet of red roses delivered to me. Even the delivery guy complimented they were beautiful!
The day was finally here. My daughter, son, family and friends were delighted. I was finally going out on a date with a man I met on the internet. I must say this was something totally out of character for me. One thing I've learned, choices are placed before you. One must choose that which brings us joy.
It was after 6:00 pm, the doorbell rang and my heart sank into my stomach. Oh my, was I nervous. I opened the door and there he stood tall and extremely handsome. It was an OH MY GOSH moment! I invited him in to meet my son and daughter, chatted for a while then we proceeded outside to find a limo. How awesome was that. We were driven to a fabulous restaurant and had the most amazing time. Not only was he handsome, but also very intelligent. I didn't want the night to end.
On our way out we decided to take a stroll. Being Florida, the night was perfect. As we waited for the limo, he held a rose petal up to my nose and told me to smell it. When I did, he moved the petal away and kissed me. It felt so incredible. It unleashed a passion that had been buried deep within me and could not contain it. We walked over to the limo and started the drive back home. The kissing continued. I felt my soul awaken from a deep slumber. I felt alive for the first time in my life. Till this day, when he kisses me, it still feels like the first time.
Where in the world have you felt the most in touch with your own soul?
I feel the most in touch with my soul when I'm sitting out on my lanai. I live in a condo located on along the seawall of the Caloosahatchee River. It faces the bridge which connects North Fort Myers and downtown Fort Myers. I have a first row seat to the Nature Show: dolphins swimming, stingrays skimming the water, fish jumping, an assortment bird species including an occasional bald eagle fly by. The view is spectacular!
Every day I witness the beginning and the end of the day, through the daily sunrise and sunset. When I sit there, I feel the presence of God. I feel as if He waits for me to sit and to share my most inner thoughts. It's where He gives me that sense of peace when I'm not sure about something. It's my refuge.
Who is one of the most soulful people you've ever known? One of the most soulful people I know is my friend Juana from Chicago. I met her when I was 17 years old. Our souls immediately connected. It was almost as if I had known her throughout my life. This is a friend I can speak to about anything in confidence and would never break it. She's a true friend that has always remained by my side, even when I made the poorest decisions.
What qualities do you feel a soulful relationship has? I don't think I'm qualified to answer that question just yet, only because I'm still learning. I do believe that in a relationship, you must give and take. It's not always about what "I" want and it's not always about what "they" want. It's finding a happy medium, being supportive of each other in everything. Couples should feel comfortable about communicating and different types of intimacy. I believe couples should give each other some freedom as long as there isn't any disrespect involved. Most importantly, I believe a relationship should have lots of romance in any way, shape or form.
What do you feel your soul's purpose is? I feel my soul's purpose as well as everyone's soul's purpose is to be there for each other. Just go up to someone, pull up a chair, sit and say, "Hello, I'm here" and smile. I believe there is a reason for meeting every person that has entered our lives.
Is there anything else you'd like to share with us? Learn to love life regardless of what is thrown at you. If you spend too much time trying to figure things out, you may miss out on the big lesson being taught. Love the moment you're in now, you may never get another chance. Remember, one day you are going to feel a tap on the shoulder and a voice will say, "It's time to come home. Did you have fun?" What is your answer going to be?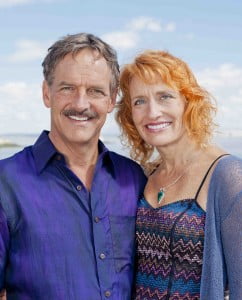 Thank you, Gloria, for sharing your story! ~Mali & Joe, authors of The Soulmate Experience: A Practical Guide to Creating Extraordinary Relationships, 52 Prescriptions for Happiness, and the upcoming book The Soulmate Lover, and creators of Mantras for Making Love