Leslie Escoto, host of Tell A Story Online, shares what she has discovered about herself and life through contemplating the question "What does it mean to have truly lived?" and through her interactions with The Soulmate Experience community on Facebook. Leslie emerges as a woman overflowing with intelligence, passion, and creativity in this heart-opening story, just as the lovely scene emerges on her canvas (about which she says, "This is called painting from the imagination and heart. Just put the paint on canvas and see where it leads."). See more of her painting here. Leslie, may you know yourself as lovable right now!

I came across an essay by Edmund N. Carpenter II, age 17, printed in the Wall Street Journal in 1938. As a young man he was attempting to capture his thoughts about death and
what he wanted to do, experience, see, and learn before he perished. As I was reading it I felt as if I were reading my own thoughts, desires, needs, dreams, fantasies, and hearing my burning question: What does it mean to have truly lived?
I thought long and hard about this—who am I really, what do I want to do with my life, how do I wish to be remembered, why am I here? For a long time, I didn't get any answers. I was too broken and sad and hopeless. I was so stuck in the pain and trauma of the past that I was unable to visualize what would lead me toward a life of peace and grace.
And then came an awakening. I found a special place, on the Internet, a warm, loving and safe place called The Soulmate Experience and I began to heal, and forgive, and smile, and hope.
I was finally able to answer my questions about who I am and what it means to have lived the life I so desire.
So, dear Edmund, here is my contribution to your incredibly beautiful heart.
I want to be remembered for doing something important. I want to see the world and immerse myself in the ways in which others on this planet live, work, play, and love. I want to find the love of my life with whom to face the rest of our time here with joy, laughter, adventures, passion, and love. I have experienced great sorrow, and although I don't relish the thought of feeling it once again, I do understand that it has given me a better understanding of the fragility of life... that we should, no we must, be grateful for each day that we can see the wonders of our world, feel the warm sun or a drop of rain on our face, hear the sounds of nature and children's laughter, smell the aroma of a cup of freshly brewed coffee or the rich earth after a gentle rain, and taste the sweetness of ice cream on a hot summer afternoon or the bite of a warm snifter of brandy at the end of a long day's work.
I want to write, paint, create and have my fellow human beings see something in my creativity that resonates with them, teaches them, fills their heart, makes them cry, lifts them up, makes them fall in love, helps them stop the hate, self-doubt, or cynicism. I want to serve the common good, be involved in making the world a better place, help people understand each other, leave a legacy for my grandchildren, and yes, learn more about myself so that I can discard the old hurts, mistakes, frailties, self-doubts and make myself loveable once again.
I want to feel good about myself, proud of who I am and what I have accomplished. I want to spend time with family and good friends. I want to give of myself and my resources generously without expecting anything in return. I want to feel cherished and adored, safe, protected, admired, respected, and yes loved, unconditionally, deeply, with abandon... forever.
I want to stop crying for sadness rather than for joy. I want to be more confident and less self-conscious. I want to read, listen to music, go to the theater, watch the whales, stare at great art, visit the zoo, live on a mountaintop, learn to cook like a gourmet, drink champagne for no special reason, grow a garden and give its bounty away, spoil my grandchildren, sail around the world, travel on the Orient Express, sleep in a castle, visit the Louvre, wander through Soho, shop at Harrods, see the pyramids, learn more about Celtic history, and so much more.
I know most of this sounds lofty and perhaps even silly, but I truly believe that making memories for myself and my loved ones is one of the most important aspects of life. Living my life, really living it, and cherishing everything it offers is what I strive for: being present, aware, open, involved, included, learned, and most importantly, contributive is how I want to go forward in this cherished existence. I would live in a tent if I could do all the things that I want to do before I must leave this earthbound life for my next great adventure
.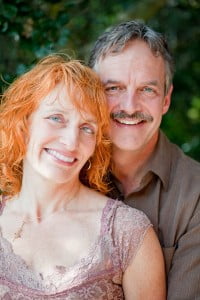 Thank you Leslie—we love you! ♥ Mali & Joe, authors of The Soulmate Experience: A Practical Guide to Creating Extraordinary Relationships