Download two free chapters from The Soulmate Experience!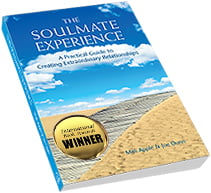 From Part 1: Creating Your Soulmate Experience
you will receive
Chapter 2: Loving Your Body
From Part 2: Keeping Your Soulmate Experience Alive
you will receive
Chapter 5: Having a Guest in Your Life
Just enter your first name and email below.
We will never share your information with anyone else.
If you enjoy what you read, we know you will love the rest of the book!
A portion of all sales is donated to support humanitarian causes.
With love,
Mali & Joe
You will also receive occasional inspirational emails from The Soulmate Experience
and may unsubscribe at any time.