The author of this tender letter, the very first review of our brand new CD download, Mantras for Making Love, has graciously allowed us to share it with you.

As far as sexual experiences go, mine have been far from pleasant… a lifetime of sexual abuse. Sex has NEVER been pleasurable, at all. I have never experienced an orgasm.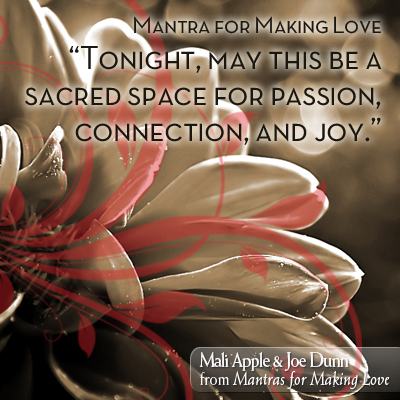 Listening to Mantras for Making Love was a lesson for me, a long-awaited lesson. Obviously I already knew that the experiences that I have had in life were not accepted in society as normal. I wasn't shut off from the outside world: I had friends, heard them talk about their relationships and sex lives etc., so it's not that I was naïve enough to not know the difference but [the abuse I endured] was MY norm and I had no way to break that norm…
My point here is that listening to the mantras opened up a whole new world for me that I never knew existed. "Honor and pleasure to explore your desires with you" — for me sex was always about the other person, what they desired, them taking what they wanted. I got to the point where I left my body, let them do what they wanted and pretended it wasn't happening. It was over quicker that way and I was hurt less.
The words "spiritual connection through our physical connection" is a foreign concept to me but one that sounds so spiritually and physically safe that even I would want to do it! The choice of phrases is remarkable. "In this loving space you are safe to try out being anyone with me," "I am here to create a brand new experience with you tonight," "my deepest desire is for you to open up and know yourself as a fully sexual man/woman," "intention for our souls to unite"…
It doesn't matter what stage of a relationship a couple is in, these mantras will be of use to them. Old, young, starting out in a relationship, together for a lifetime, trying to reconnect or reclaim their passion. These mantras will make people feel comfortable, at ease, will give them focus, encourage a feeling of openness and safety in the relationship, and improve communication.
I swore I would never have a physical relationship with anyone, ever again. What I just listened to makes me want to experience that. It has dispelled much of my fear. It makes me believe that sex and intimacy can be a pleasurable and enjoyable experience. It makes me believe that a physical connection is so much more than just the act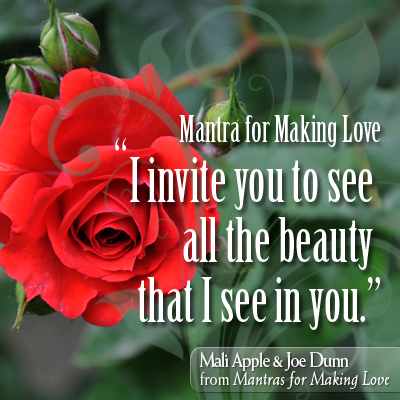 of intercourse and that spirit and soul have as much to do with it as anatomy, if not more. It makes me believe that I am worthy of experiencing that connection with someone and also that it is not as impossible as I allowed myself to believe that it was.
After listening to it, I know that I need to do work to fix myself. I am not as emotionally or physically broken as I thought I was. Mantras for Making Love is something I will use when I find myself ready to explore the physical side of a relationship with someone. It is something I believe will help me create a safe place in which to move forward and something that will be of immense help to me in creating, experiencing, maintaining and enjoying a healthy physical relationship.
There is no doubt in my mind or in my heart that the magic people discover through you two will stay in their hearts and that the water of life will never be still; the ripples will continue forever.
Mantras for Making Love—soul-opening mantras and affirmations to create a space for profound intimacy and infuse your lovemaking with more connection, more passion, and more pleasure—is available

here

.